Restricted or prohibited items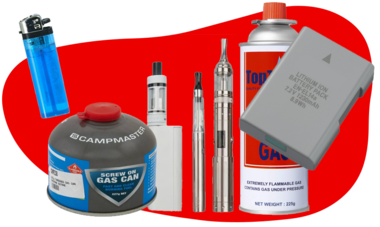 Are items such as lighters, e-cigarettes, or spare lithium batteries allowed in checked bags or cabin bags? In what quantity can I carry aerosols or gas cartridges in my checked baggage? Find out all the information about items that are prohibited and regulated on board our aircraft.
Restricted or prohibited items
Products and items allowed in cabin only
Electronic cigarettes, regardless of the type
Must be carried on yourself only and must be completely turned off:
The battery should be removed from the device.
Terminals must be protected against short-circuits by covering them with adhesive tape or placing the battery individually in appropriate cases.
The use and the charge of electronic cigarettes are prohibited during the flight.
Please note that electronic cigarettes are strictly prohibited in checked baggage.
USB Powerbank Chargers
USB chargers and power banks are allowed with a maximum of 2 units per person. However, they are strictly prohibited in checked baggage.
Spare lithium battery
Passengers are allowed to carry a maximum of 2 spare rechargeable lithium batteries (with a capacity of 100-160 Wh) per person.
It is strictly prohibited to pack rechargeable lithium batteries in checked bags.
Matches and standard lighters (liquid gas)
Matches and conventional lighters that use liquefied gas are allowed only in carry-on baggage, with a limit of one per person. However, they are strictly prohibited in checked baggage.
Powders
Powders are permitted in cabin baggage and may include items such as flour, sugar, ground coffee, spices, powdered milk, cosmetics, sand, medical powders, and baby food, among others.
Special consideration for flights to the United States:
When traveling to the United States, powders in quantities exceeding 350 ml (about 11.8oz) are prohibited in cabin baggage and must be placed in checked baggage.
Exceptions: Medical powders with a prescription, baby food, funeral ashes, and powders purchased duty-free in a sealed bag (STEB) are allowed.
Liquid, paste, gel and cream
May be carried in small quantities (up to 100 ml or about 3.4oz per product).
Must be placed in a transparent plastic bag with a zip closure (20 cm x 20 cm or approximately 7.87 inches x 7.87 inches) with a maximum total volume of 1 liter (about 33.8oz).
Only one bag per person is allowed.
Notes:
Beverages and other items purchased in the duty-free zone can be carried on board without limitations in terms of quantity or volume, as long as they are kept in a sealed, transparent bag with proof of purchase.
Exceptions:
The following products are allowed without restrictions if needed during your flight:
Baby food for infants under 2 years of age,
Medications accompanied by a prescription or a statement from your physician,
Special dietary food items.
Special items allowed in checked baggage only
Firearms : Revolvers, bows, pistols and other equipment emitting projectiles
Firearms:
Revolvers
Firearms and other projectile-emitting devices
Strictly prohibited in cabin
May be included in your checked baggage allowance or may require the purchase of additional baggage.
Bows, Crossbows, and Arrows:
Bows
Crossbows
Arrows
Firearms of all types
Rifles
Pellet rifles
Firearms components, except telescopic sights
Slingshots and Catapults
Shotguns
Harpoon guns
Air rifles
Harpoons
Toys, replicas, and imitations of firearms that could be mistaken for real weapons
Ammunition:
Maximum of 5 kg (about 11 pounds) gross weight per person
Air pistols, Revolvers, Starter pistols, Signal flare guns:
Replicas and imitations of firearms (e.g., lighter shaped like a firearm...)
Transportation of sports and hunting firearms is allowed in checked baggage, in an inaccessible location to passengers, as defined on our "Sports Equipment" page. 
Paralyzing devices
Animal stunners and animal killing pistols
Neutralization devices such as paralyzing pistols
Chemical substances, gases, and aerosols
Sharp Objects
Sharp Objects
Hypodermic needles
Syringes
Items designed for chopping (axes, hatchets, meat grinders, etc.)
Scissors with blades measuring more than 6 cm (about 2.4in) from the pivot point
Scissors for children
Knives with blades longer than 6 cm (about 2.4in), pocket knives, oyster knives, paper knives
Razor blade (razor allowed without blades)
Scalpel
Cattle and Animal Handling Items
Martial Arts Equipment
Equipment or weapons of martial arts, sharp or cutting
Throwing Objects
Darts
Shuriken (throwing stars)
Miscellaneous Sharp Objects
Crampons
Cigar cutters
Box cutters
Ornamental hairpins from Okinawa
Skewers
Ice picks
Ice axes
Tent stakes
Dagger
Samurai umbrella (with a handle resembling a samurai sword)
Martial arts equipment or weapons, sharp or cutting
Sabers
Corkscrew with a blade, bottle opener
Real or toy swords
Note: This is a professional rephrasing of the items, but please refer to specific regulations and guidelines provided by relevant authorities or organizations for accurate and up-to-date information.
Work Tools
Crowbars
Spanners
Nail guns
Hammers
Tools with a blade or shaft longer than 6 cm (about 2.4in) that could be used as weapons, such as screwdrivers, pistol grip screwdrivers, and chisels.
Drills and drill bits, including cordless portable electric drills.
Pliers
Sealing guns
Saws, including cordless portable electric saws.
Liquid-fueled camping stoves*
Chainsaws*
*Note: For liquid-fueled camping stoves and chainsaws, the fuel tank must be emptied, and authorization must be obtained from Air Tahiti Nui (MDTN@airtahitinui.pf).
Non-flammable and non-toxic aerosols
Deodorant
Eau de toilette (Toilet water/Perfumed water)
Hair spray (Hairspray)
Shaving foam (Shaving cream)
Perfumes (Fragrances/Scents)
Blunt instruments
Baton, Truncheon
Sticks: Hiking sticks, Ski poles, Hockey sticks, Walking sticks, Pilgrim sticks, Massage sticks
Baseball bats, Softball bats, Cricket bats
Boomerang
Fishing rod
Golf club
Brass knuckles
Hockey stick
Metal detector
Martial arts equipment
Nunchaku
Ice skates
Cricket stakes
Cast iron skillet
Flagpoles
Pool cue
Canoe kayak paddles
Skateboard
Skis
Snowboard
Croquet mallet
Electric guitar
Tripods
Electronic devices
Electronic devices
If you are planning to travel to the United States, it is important to ensure that all your electronic devices such as computers, laptops, tablets, mobile phones, gaming consoles, cameras, etc., are fully charged. It is possible that airport security may inspect the functionality of these devices, and if any of them are found to be non-functional, they may be confiscated.
For further information, please contact the Security department at the following phone number: +689 40 86 61 32, or via email at suretetn@airtahitinui.pf.
Items strictly prohibited on board (cabin, hold and cargo)
Substances and devices that are explosive or incendiary in nature
Matches without a striking surface.
Fuse materials
Smoke bombs and cartridges
Oxygen bottles
Gas torches
Copies or imitations of explosive devices
Detonators and detonating cords
Dynamite
Fire extinguishers
Grenades and other military explosives
Mines
Powder and plastic explosives
Explosive items such as fireworks, firecrackers, flares, etc.
Devices that have lithium batteries installed
Self-balancing personal transportation devices such as hoverboards, segways, solowheels, and scooters
Devices designed to assist with mobility, including wheelchairs.
Smart bags with built-in batteries that cannot be removed.
Samsung Galaxy Note 7
Series of 15-inch MacBook Pro, click here for more information.
Neutralizing devices
Electric weapons: taser
Incapacitating devices: pepper spray, tear gas, animal repellent
Corrosives
Stripper
Chlorine
Bleach
Detergent
Acid
Cleaning products
Solvent
Mercury thermometer, barometer
Flammable solids and liquids
Ammonia
Paint
Petrol
Cleaning products
Firelighters
Inflammable gases
Aerosols
Sanitary air freshener
Small compressed gas cylinder
Hazardous and infectious substances
Poison
Cyanide
Arsenic
Herbicides
Insecticides
Acetones
Other materials
Radioactive materials
Materials with strong magnetic properties
Substances that oxidize or contain organic peroxides
Food products
Food products
The transportation of food items between countries is subject to regulations. Prior to boarding a flight, it is recommended to check with the relevant authorities for guidance on bringing food products.
For travel to Tahiti, please consult the website of the Direction de la Biosécurité of French Polynesia for information on food importation requirements.
For travel departing from Tahiti, please refer to the website of the Direction de la Biosécurité of French Polynesia for information on food exportation requirements.
Lithium batteries and cells
Electronic devices and their spare batteries
Electronic devices and their spare batteries are subject to specific transport conditions that depend on:
the energy rating in watt-hours (Wh)
the lithium content in grams (g)
There are three (3) categories of batteries based on their watt-hour (Wh) power rating:
Batteries with a rating of ≤100 Wh, which are typically used in small electronic devices like mobile phones, laptops, cameras, tablets, and medical devices. These batteries are allowed in both cabin and checked baggage when they are contained within a device. Spare batteries* are also allowed in cabin (for personal use only) and checked baggage.
Batteries with a rating of >100 Wh and <160 Wh, which are commonly found in electronic devices intended for general public use, such as cameras, power tools, and medical devices. Batteries contained within a device** are allowed in both cabin and checked baggage. However, spare batteries** * are only allowed in cabin (with a maximum of two per person) and are not allowed in checked baggage. Approval from the airline(s) is required for carrying spare batteries in cabin.

Batteries with a rating of >160 Wh, which are used in larger industrial equipment, vehicles, and mobility aids. These batteries are prohibited in both cabin and checked baggage and can only be transported as cargo.

 
*It's important to note that spare batteries carried in cabin must have their terminals protected against short-circuit by insulating them with adhesive tape and placing them in individual plastic bags or their original packaging. 
**Additionally, if the watt-hour (Wh) energy rating is not indicated on the battery, you need to calculate it using the formula: Wh = 2V x 0.5A, where V represents the voltage and A represents the current of your device.
For further information, please contact the Dangerous Goods Department at the provided telephone numbers or email address : 
Mobility aids with retractable lithium batteries
Transportation of mobility aids with retractable lithium batteries is subject to specific regulations. For wheelchairs equipped with two accumulators required for operation, each accumulator must not exceed 160 Wh and is permitted in the cabin. A maximum of one spare battery, not exceeding 300 Wh, or two accumulators, each with a charge below 160 Wh, are allowed in the cabin. Batteries with a charge exceeding 300 Wh can only be transported as cargo, and approval from the airline(s) on your itinerary is required.
Baggage that includes smart features or is connected and equipped with a lithium battery
In checked baggage: If the bag is being checked in, the battery must be removed and carried separately in cabin baggage.
In cabin baggage: If the bag is being carried in the cabin, the battery must be removable.
If the battery cannot be removed, the bag will not be allowed on board, whether it is in checked baggage or cabin baggage.