Moana Premium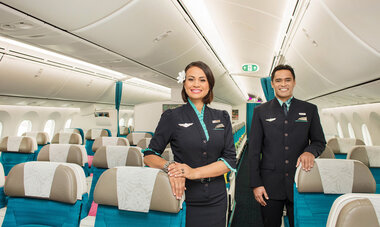 A cabin designed for your comfort
A Tiare flower, a Polynesian musical ambiance, a smile and a word of welcome are the ritual that announces the beginning of an unforgettable journey. Take a seat in our Moana Premium cabin. The colors of the lagoon, the patterns on the cushions and headrests, the local music, the scent of the emblematic flower of the islands of Tahiti... Everything is done to immerse you in this Polynesian atmosphere that is dear to us.
This intermediate class allows you to enjoy the Premium comfort of wider seats and extra legroom. Welcome to Moana Premium class!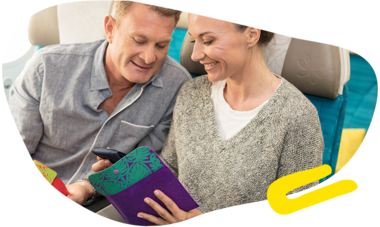 Premium comfort aboard our Tahitian Dreamliner
Our aircraft are equipped to make your long-haul flights as pleasant and relaxing as possible. ZODIAC Aerospace, supplier of the Moana Premium Z535 seats, offers you a more comfortable travel experience and a configuration that provides more legroom with a leg and footrest that adjusts to your height.
The Z535 seats feature a unique structure that provides an optimal 96.5 centimeters (38 inches) of space between each row and a 20 cm (8 inches) seatback recline. This premium cabin features seating configured 7 abreast (2-3-2) in 5 rows.
Comfort amenities include: a large fleece blanket, a comfortable cushion and a complete accessory kit.
This intermediate class allows you to enjoy the premium comfort of wider seats and extra legroom.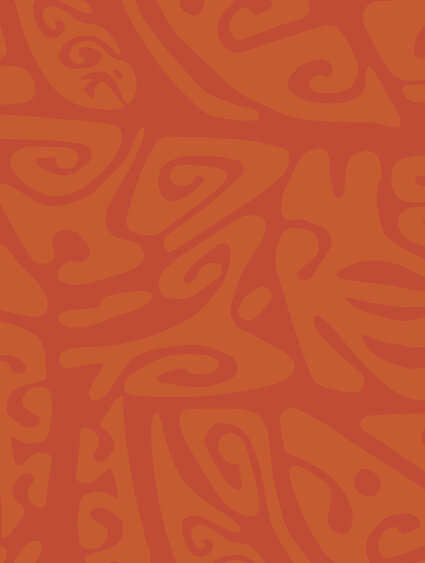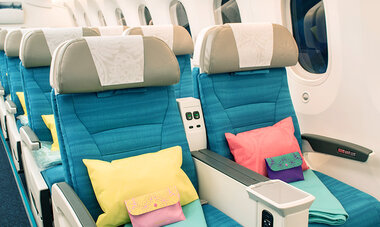 Services and Entertainment in Moana Premium Class
Moana Premium Class passengers enjoy a dedicated check-in area and priority boarding.
In Moana Premium Class, your seat also provides multiple entertainment features:
A 33 cm (13 inches) diagonal touch screen display allowing you to enjoy our selection of movies, series, cartoons, documentaries, music and video games.
A touch control
A USB port to power your devices
Our aircraft are equipped with in-flight Wi-Fi. Take advantage of our various offers to connect directly from your smartphone, tablet or computer.