Assistance for passengers with disabilities
Air Tahiti Nui is dedicated to supporting passengers with disabilities or reduced mobility. We are committed to providing comprehensive assistance throughout your journey, including tailored services to accommodate your specific needs. This includes airport and in-flight assistance, free handling of medical and mobility equipment, improved airport access, and special seating and equipment on board our aircraft.
Please note that the information provided is applicable to flights operated by Air Tahiti Nui. If your travel itinerary includes connections with other airlines, including our codeshare and partner airlines, you should also check their specific requirements.
Assistance and guidance for planning your trip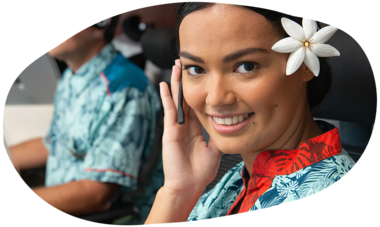 Reservation
You have several options for requesting assistance:
Through your designated Air Tahiti Nui sales representative
Via your trusted travel agency
Online during the booking process or through the "contact us" section.
Please note that requests for assistance should be made no later than the day of departure, depending on the nature of the assistance needed.
For certain types of assistance, such as traveling with a personal wheelchair or a guide dog, additional information may be required. To ensure seamless organization of your requests, it is crucial to provide these details at the time of booking your ticket, at least 48 hours prior to your scheduled departure.
Sensory Impairment
Air Tahiti Nui is committed to providing assistance to passengers with visual or hearing impairments to ensure a smooth journey.
Visual Impairment
Upon boarding, our cabin crew will help you find your seat and provide information about your surroundings, such as emergency exits, restrooms, and call buttons. They can also describe and explain the contents of your meal tray during meal service. Please note that while our cabin crew can assist you in accessing the restroom, they are unable to provide assistance inside the restroom.
Hearing Impairment
We offer a selection of films with subtitles for passengers with hearing impairments.
Special Information:
Passengers with significant combined visual and hearing impairments should be accompanied by a designated assistant throughout the journey to facilitate communication with the staff and adherence to safety instructions in normal and emergency situations.
Motor Disability
Air Tahiti Nui offers complimentary transportation for manual or electric wheelchairs and personal mobility equipment, without any size or weight limitations.
For manual wheelchairs:
In most airports, you can keep your wheelchair with you until the aircraft gate or boarding gate, if boarding is not directly through an aerobridge. In such cases, your manual wheelchair will be delivered to you upon disembarkation or upon entering the terminal.
When making your reservation, please provide details such as the type of wheelchair, its dimensions, weight, and whether it is foldable or not. This information will enable us to ensure optimal transportation conditions.
For electric wheelchairs:
As a general rule, electric wheelchairs need to be checked in as baggage. They will be returned to you at the baggage claim area.
We strongly recommend that you make your transportation request at least 48 hours before your flight. This request may be declined if the battery characteristics of your wheelchair do not meet safety requirements for transportation.
Battery safety regulations:
Batteries can be categorized as reversible (dry) or non-reversible (wet), with lithium batteries falling under the reversible category.
Transportation conditions for wheelchairs with reversible batteries:
The battery can remain attached to the wheelchair or mobility equipment if it is securely fixed.
Terminals do not need to be disconnected if they are already included in a battery container or isolated to prevent short-circuiting.
The motor must be in the "disengaged" position.
Transportation conditions for wheelchairs with non-reversible batteries:
Due to potential risks to flight safety, transportation of wheelchairs with non-reversible batteries requires special precautions and may be declined without prior information. Please inquire about the conditions for transportation when making your reservation.
Important note:
While we take all necessary precautions to avoid damage, we recommend that you keep items such as pressure relief cushions, removable footrests, joystick controllers, etc., in your carry-on or checked baggage to minimize the risk of loss or damage.
Here is some helpful information for our passengers with disabilities or reduced mobility to ensure a smooth trip :
Check if you need to travel with a companion.
Check if you need medical clearance before your trip.
Ensure that your medical equipment meets our on-board usage conditions.
At the airport:
Depending on the nature of your disability or impairment, specific assistance is available at all airports. This assistance includes:
mobility support, 
check-in for you and your luggage, 
assistance in boarding and settling in,
disembarking,
retrieving your luggage and mobility equipment, and
leaving the airport.
In airports within the European Union and the United States of America, this assistance is provided by airport operators in accordance with European Regulation EC 1107/2006 and DOT Part 382 requirements.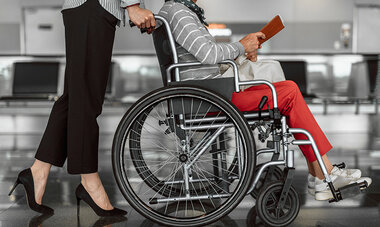 Check-in
To ensure you receive the best possible assistance, Air Tahiti Nui advises you to arrive at the airport three hours prior to your scheduled departure time.
To make your journey easier and save you time, signage is available at selected airports to help you navigate.
In addition, designated fast-track lanes for passengers with reduced mobility can shorten your wait time at the check-in counter and during various formalities such as immigration and security.
You have two options for checking in on the day of your departure:
Please note that you must collect your boarding pass at the airport check-in counter to receive the necessary assistance.
Baggage Transportation
In addition to the baggage allowance associated with your ticket, you are permitted to transport your medical equipment, personal mobility devices, and service animal at no additional cost, subject to the required conditions.
Priority Boarding
If you have requested individual assistance, you will be offered priority pre-boarding, allowing you to board the aircraft before other passengers.
Upon Arrival
For enhanced convenience, we offer you the option to disembark the aircraft after other passengers. Upon arrival, your baggage, wheelchair (if it has been stowed in the hold), and any other mobility equipment will be promptly delivered to you with priority, ensuring a smooth transition.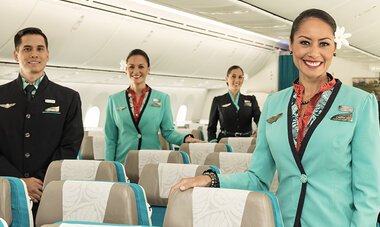 Onboard
Our crew are aware of your presence onboard and are trained to identify your specific assistance needs. We are committed to providing you with the necessary support to ensure your flight is comfortable and enjoyable. However, please note that our assistance does not extend to tasks such as meal or medication administration, toilet use, or other personal assistance. It is important to ensure that you are able to meet all the requirements of air travel without external assistance. If you require additional support, we recommend traveling with a companion to avoid any potential challenges onboard.
Onboard Amenities
Most of our seats have adjustable armrests, except for specific configurations:
In Poerava Business class, the center armrests are fixed.
In Moana Premium class, the center armrests are fixed.
In Moana Economy class, the armrests are fixed on certain seats: 18 ABC DEF JKL, 31 ABC JKL, and 32 DEF.
You are free to choose your seat, but for safety reasons, certain seats are not accessible:
Seats directly next to emergency exits (31 ABC JKL).
Seats 1 AB DE KL and 5 BK in Poerava Business class.
Seats 10 BD FK in Moana Premium class.
Seats 28 DF, 44 DF, 45 DF, and 46 DF in Moana Economy class.
Special Equipment and Services
All our aircraft are equipped with:
Onboard wheelchairs (WCOB) for in-flight mobility.
Accessible toilets for passengers with reduced mobility.
Dedicated storage space for folding or collapsible personal manual wheelchairs, adult size (33 x 91 x 107 cm or 13 x 36 x 42 inches).
If you require specific equipment or are unable to use a standard aircraft seat position, please inform us during your reservation so that we can assess if the equipment can be safely installed on the aircraft. This assessment must be done prior to transport by our services.
For further information on your rights, please refer to the following laws and regulations: